About Us
Monvaper entered the Saudi market in 2020 and has now become the mainstream brand in Saudi Arabia, being a global leader in the disposable electronic cigarette sector. Our commitment to quality, innovation, and customer satisfaction has made Monvaper the preferred choice for those seeking a high-quality disposable electronic cigarette experience.
Certifications and Accreditations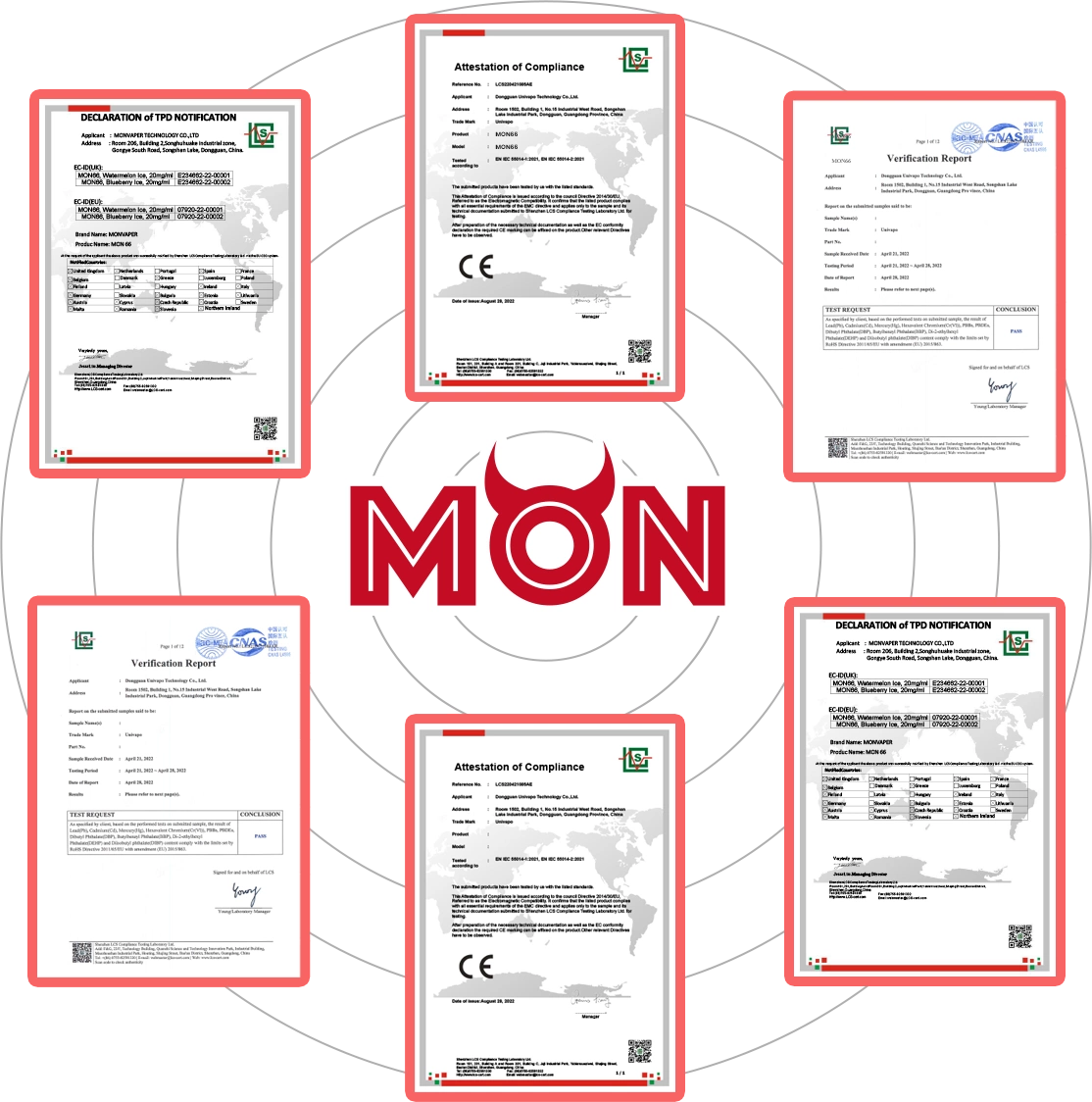 At Monvaper, we fully understand that the electronic cigarette market is constantly evolving, and we are dedicated to staying ahead of the curve. That's why we heavily invest in state-of-the-art factories equipped with the latest technology and staffed by a team of highly trained professionals.
Our factory is where the magic happens. We use only the highest quality raw materials to produce our disposable electronic cigarettes, ensuring each one is made to exacting standards. From device design to e-liquid flavor, every aspect of our disposable electronic cigarette is carefully crafted to provide a satisfying and enjoyable experience.
But we don't just make great products. We also strive to make the process of purchasing and using disposable electronic cigarettes as easy and convenient as possible. That's why we offer a wide range of flavors and nicotine strengths to suit every taste, making it easy to order online or find products in stores.
So whether you're a seasoned veteran or someone new to the world of e-cigarettes, you can trust Monvaper to provide you with quality disposable electronic cigarettes that suit your needs. We are proud to be the world's leading brand of disposable vape with our commitment to quality, innovation, and customer satisfaction.
High Quality Standard 
TPD, ROHS

Monvaper Global Network